Workplace Injuries in Walton
At Wafer Phillips we have been helping individuals from in and around Walton, Liverpool to claim compensation for workplace injuries for over 25 years.
Based in Norris Green, just a short 10-minute drive from Walton, our friendly team of experts will help to take the stress out of claiming compensation for your workplace injury.
We understand that suffering a significant injury at work can cause financial loss and damage to your work and personal life, as well as physical and psychological pain and distress.  Our team of specialist solicitors will always be sensitive and discrete with your case, helping you to claim the compensation you need to ease financial worries and give you time to recover and get back on your feet again.
Workplace injury compensation claims Walton
All employers are responsible for the health and safety of their employees and should take appropriate precautions to protect them at work. This includes providing employees with the health and safety training and equipment they require to carry out their jobs safely and without injury.
It doesn't matter whether you are a contractor, full-time, part-time, or temporary employee, if you have been injured in an unsafe workplace you may be able to claim for compensation, regardless of your employment contract type.
Sometimes our customers are anxious about making a claim as they worry that it could affect their employment.  It's important to remember that when you make a workplace injury claim you are not claiming the money from your employer but from their insurance company. Claiming compensation for a workplace injury is not an attack on your employer and should not be taken personally, you have a right to claim for the compensation that you are due.
At Wafer Phillips we have helped countless clients from Walton to claim compensation for workplace accidents within a variety of industries including healthcare, agriculture, building and construction, factories, and offices.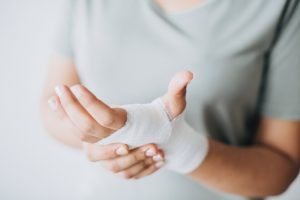 Why choose Wafer Phillips?
Our countless satisfied customers and many years of experience have earnt us a reputation as one of Liverpool's most trusted solicitors.  If you're looking for a solicitor local to Walton to help you through a compensation claim for a workplace injury then you couldn't be in safer hands. Just a few of the reasons why so many customers choose us include:
25 years' experience working in and around Walton, Liverpool.
Conveniently located just 10 minutes from Walton.
We are a no win, no fee firm so you have nothing to lose.
Professional, experienced and qualified experts.
Regulated by the Solicitors Regulation Authority.
A friendly, supportive and down-to-earth approach.
If you have suffered an accident at work then please be aware that although there are some exceptions to the rule, generally you must make your claim within three years of the date of the accident.
To take the first step towards receiving the compensation you deserve, give our team of experts a call on 0151 256 7898 to receive free initial advice on your case.
Visit our office near Walton