It is estimated that 300,000 road traffic accidents per year result in whiplash injuries, with figures indicating that around 50% of participants do not recover by three months. As a result, eight in ten personal injury claims following road traffic accidents are now for whiplash, according to the Association of British Insurers.
What is whiplash?
Whiplash occurs when your head is suddenly thrust back and forth with enough force that your neck's, tendons and muscles are stretched or torn. This injury most commonly occurs during road traffic accidents when cars come to a complete stop on impact, but it can also happen when playing sports if you slip or trip or result from an accident. It is important to remember that when a whiplash injury occurs, the soft tissue, tendons, muscles, nerves, and spine can be severely affected.
As whiplash is such a common RTA injury, it is often stigmatised as a means of cashing in with the victim, dramatising the effects, but this couldn't be further from the truth. Within the first few hours or days, whiplash most commonly causes the following symptoms that can vary in severity:
Neck pain
Stiffness
Difficulty moving your head
Headaches and migraines
Problems concentrating
Muscle Spasms
Muscle Soreness
Vision problems
Difficulty sleeping
Memory issues
Tiredness
Irritability and behavioural changes
Dizziness
Hearing ringing or other unusual noises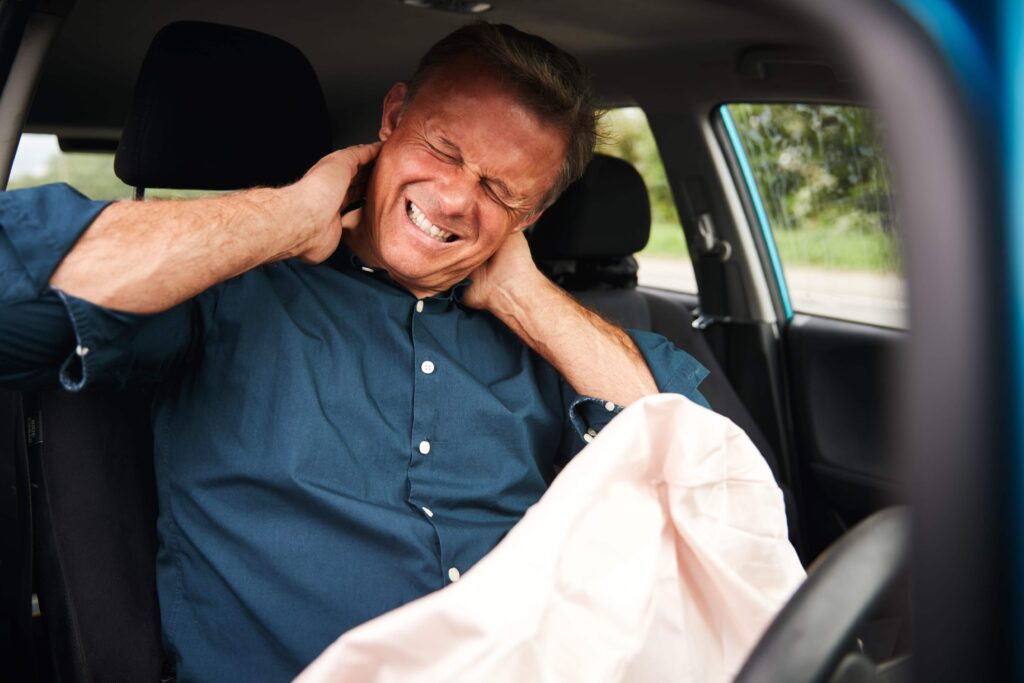 Whilst these symptoms can subside within a few weeks or months, some of the effects of your injury can be long lasting and go way beyond aches and pains. Whiplash can result in severe medical complications with long term neuromuscular and cognitive effects that can go on for years or even a lifetime.
The long-term effects of whiplash can include:
Chronic pain in the neck and shoulders
Back Pain
Ongoing dizziness
Ringing in the ears
Chronic headaches or migraines
Jaw pain
Numbness or weakness in your hands, arms, or legs
Vision problems
Difficulty sleeping
Memory problems
Difficulty concentrating
Personality changes
Depression
Whiplash is often mischaracterised as simple neck pain, but long-term whiplash effects are a lot more common than people think. Numerous studies have demonstrated that many whiplash symptoms can span across years, with some people never fully recovering. Often the physical, mental, emotional and even financial impact of whiplash is overlooked, which is why it is essential to be aware of the potential ramifications of this injury.
What to do after an accident
If you believe you may have sustained a whiplash injury, it is imperative to visit your GP or the hospital. This is not only for your own health and well-being but also for obtaining documented proof that you sought medical assistance. If you are to build a solid legal case to gain compensation for your accident, you must follow specific procedures.
The foundations of your case are built on providing proof of your whiplash symptoms and injuries from a qualified medical professional. It is therefore essential that you have this evidence if you decide to make a claim.
If your whiplash injury results from a road traffic accident, it is key that you take note of the details of the accident, any witnesses, and the vehicles and drivers involved. Not only will you need this for any insurance claims but also your whiplash injury claim. Road traffic accidents are not the only place whiplash injuries can occur, with many people having accidents at the gym, whilst playing sports, at work or out in public. In these instances, it is always important to collect the details of potential witnesses, detail what happened and if possible, report the incident to employers, managers or those in charge of the facility where your accident occurred.
Making a whiplash claim
If you have suffered from a whiplash injury and are concerned about the short and long term impacts, you may want to consider making a claim. There are several steps you will have to take to begin your claim starting with a medical examination.
After an accident, it should be a priority to seek medical advice, but if you haven't, your team of solicitors will undoubtedly advise you to undertake a complete and thorough medical examination. This will help to document any short term and chronic whiplash symptoms you may be experiencing.
The next step is to open an accident investigation with your legal team, who will establish who was responsible for the accident and gather all the evidence you need to build a successful claim. Once your case has been successfully compiled, your whiplash compensation claim will be processed. Those responsible for the accident and your injuries will be approached, and your claim will be fought on your behalf to ensure you receive the correct compensation.If you have suffered from whiplash and would like to know more about making a claim, don't hesitate to get in touch with our team at Wafer Phillips today. We are happy to provide you with free, confidential advice regarding your whiplash injury on 0151 256 7898 or email us at enquiries@waferphillips.co.uk.