Most people don't consider making a Lasting Power of Attorney (LPA) until they need one.
And by then it's probably too late.
This is an area where most of us become a bit ostrich-like, sticking our head in the sand.
Clearly, nobody really wants to think about the possibility of losing the capacity to look after themselves.
However, the reality is it could happen, and when it does, life without a Lasting Power of Attorney could be made very difficult for those who are trying to take charge of our wellbeing and finances.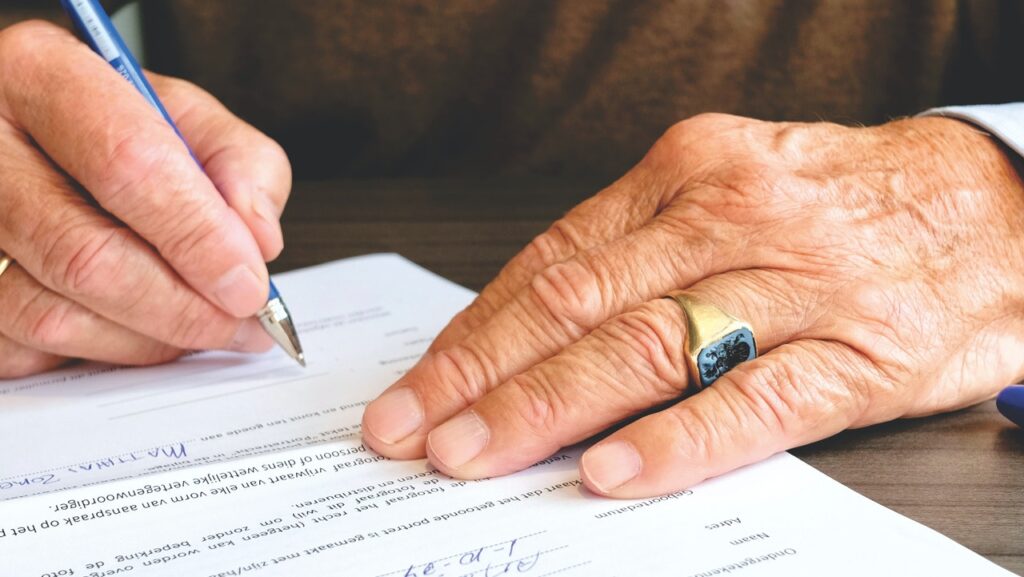 What is an LPA?
A LPA is a legal document that gives someone else the power to take care of you, and your financial affairs, if you are unable to do those things yourself.
The LPA is becoming more essential as we are living longer, and as a consequence are at risk of age-related illnesses such as dementia and Alzheimer s.
It has become an important aspect of planning for a secure future, not just for you but for the family who will take care of you.
And don't think it's a thing you can put off until you're in your dotage.
The COVID-19 pandemic has rendered many younger people unable to look after their finances and their health while they spend months in recovery.
You may also think that because you're married, the loved one will automatically take over your finances or medical decision-making on your behalf if you become incapacitated.
However, that's not so. Without an LPA, they could find themselves unable to access the family bank account, or collect your pension for example.
Types of LPA
There are actually two types of LPA and you can do both of them, or just one. They are:
Health and Welfare Lasting Power of Attorney
This is the LPA which can be used to give your attorney the power to make decisions about your health and welfare if you are unable to take those decisions yourself.
Property and Financial Affairs Lasting Power of Attorney
This gives the person appointed by you as your attorney control over financial decisions if you are unable to do so yourself.
The Property and Financial Affairs LPA covers things such as managing your bank account, collecting your benefits or pension, paying your bills and selling your property. You can appoint different people to different roles. However, your Financial Attorney must consult with a professional advisor before they can make decisions on investments. This is to stop them from being reckless with your money.
Can I do my own LPA?
The short answer is yes, and you can download forms from the government website.
If you need to make an LPA for both financial and welfare, then you'll need to download and print both these documents.
You will need to register the LPA before you can use it.
In England and Wales, the registration fee is £82 for each LPA – so it costs £164 to register both an LPA for property and financial affairs and an LPA for health and welfare.
The pros and cons of a DIY LPA:
If you do a DIY LPA how do you know it's correct?
Basically a solicitor knows how to fill in the forms and understands what is involved so you'll know that it is all done correctly.

When things become complicated you may have to call in a solicitor anyway.
This is a substantial document running into dozens of pages and there is the possibility that you will make errors.Things could also become complicated if there is more than one attorney involved for example.

There's the potential for errors
If you make a mistake you can't make changes to an LPA after it's been registered.

You need someone to sign your DIY LPA
An LPA, including a DIY LPA must be signed by a certificate provider. This is someone who confirms that you understand what you're signing and haven't been put under any pressure. The certificate provider is usually a professional person such as a doctor, social worker or solicitor.

It's cheaper
Obviously it is cheaper if you don't involve a solicitor although you often do have to pay a doctor or other professional to ensure you have the mental capacity to sign the document.
A Lasting Power of Attorney is one of the most caring and thoughtful steps you can take in ensuring love ones don't suffer any unnecessary stress should you become incapacitated.
It is usually activated when you lose mental capacity, which will obviously be a distressing time for everyone involved.
By getting a solicitor to do your LPA you can have peace of mind that it has been done properly with no margin for errors.
If you want to know more about how to do a LPA then we at Wafer Phillips are here to help.