Who hasn't slipped on the ice and snow during the winter months? Most of the time the only thing that is injured is our dignity, however when it happens at work…well, it really shouldn't.
You might not be aware that your employer should have worker safety at the heart of their business and that includes ensuring everything has been done to minimise the risk of falling on ice. If an employer doesn't put certain systems in place to make sure you're protected when it's icy, then they could be liable for any injuries you are subjected to as a result.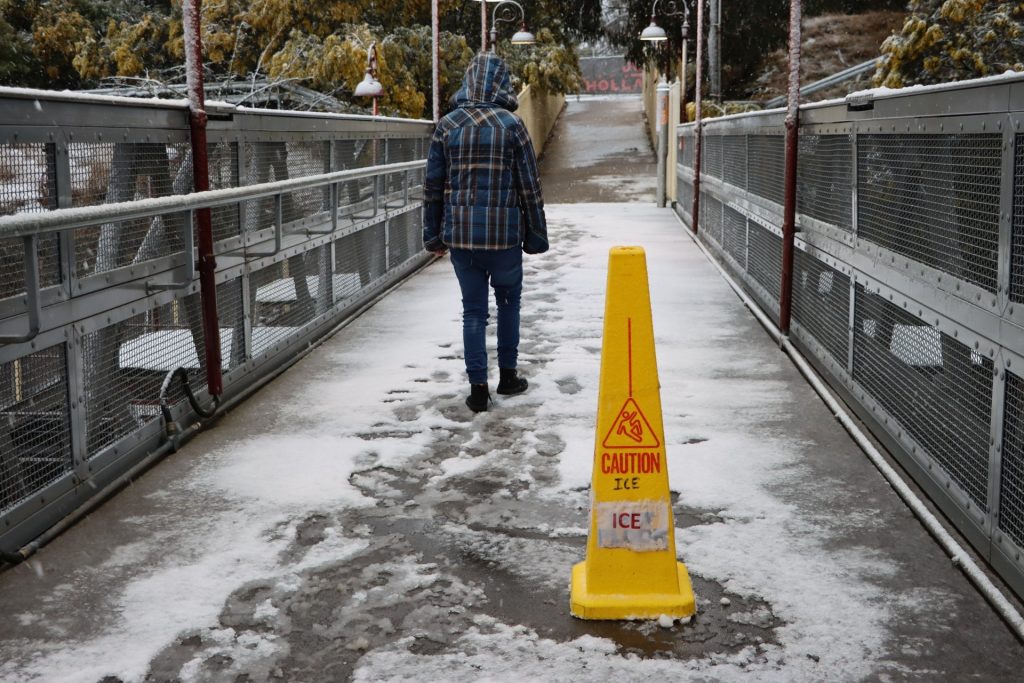 Is it my employer's fault if I slip on ice at work?
If you are arriving or leaving your workplace and you slip on the ice causing yourself to be injured, your employer must have taken all steps possible to ensure that you are working in a safe place and that there are no slipping hazards…anywhere.
This includes outside areas, such as the entranceway and employee car park, places that you might have to go to access your place of work.
The definition of workplace can also include a location that is not actually on the employer's premises but somewhere you might be visiting as part of your job.
A successful claim for falling on ice at work comes down to a duty of care and the strength of liability against the people or authority responsible for the area in which the individual fell.
What this means is, if you slipped on the ice and snow in the street and suffered a broken leg, it is unlikely you'd be able to prove sufficient liability against the local authority highways department to win a compensation claim. But if you are at work and if you have been injured as a result of slipping on ice, you may be entitled to make a claim.
Your employer cannot influence the weather and stop snow and ice from occurring but they can take steps to make sure this does not result in a workplace accident and if they fail to do this, they are considered responsible for your accident.
To minimise risks your employer should:
Ensure the areas used by those arriving for and leaving work are identified as at risk, so they should flag up areas such as the entrance to the building, car parks, shortcuts etc.
They should use grit or salt to prevent ice from forming.
Introduce signage so that people are made aware of walkways that are less slippery/hazardous.
Falling on ice at work can result in serious injury. Here are some examples of what could happen if you fall on ice at work:
Broken bones
Concussion
Bruising and other types of traumas
What steps do you need to take if you fall on the ice at work
1. Ensure you get medical attention
The medical report will be important if you wish to make a claim, so even if your injuries are minor you need to call in a doctor or the emergency services. There can be instances where your injuries appear to be non threatening but develop into something more serious, so never play it down and say everything is OK.
2. Tell your employer
Make sure that you report the incident officially to your employer.
3. Write it down
A written record of the fall is also a good idea. Do this as soon as you can while the incident is still fresh in your memory.
4. Take pictures
Get a photographic record of where it all took place and also of the injuries you've sustained.
5. Obtain witnesses
It's a good idea to write down the names of anyone who witnessed what happened.
Talk to us
If you are in an accident at work and you believe it is because your employer didn't clear away a path in the ice and snow, or fail to signpost the hazards then you may be entitled to compensation for your injuries. You may actually be reluctant to do this, fearing that you could lose your job if you make a claim but be assured that the money you receive will be paid by the insurance company.
Also, if your employer did dismiss you as a result, they would be acting illegally and would have to pay you compensation for unfair dismissal.
Finally,  if you have fallen on ice at work and believe you might have a claim you can always contact us for free initial advice. Just click on the link and find out more